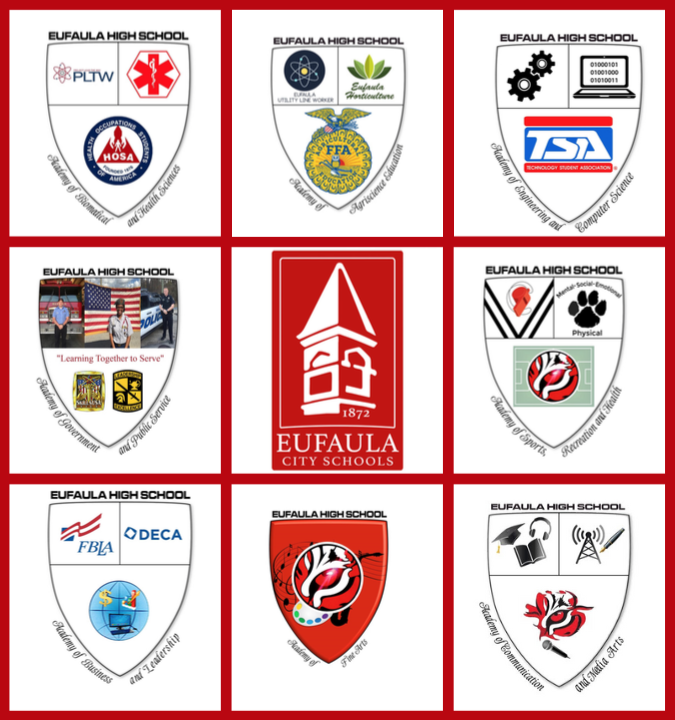 Academy of Agriculture Education

Mission: To expose students to the fundamentals of agriculture and its many entities.


This academy has two departments: Horticulture and Agriscience/Mechanics/Lineman. Students of this academy will gain a comprehensive understanding of technical careers such as AG mechanics, greenhouse production, utility lineman, and landscape design. Students will acquire the related skills to ensure that they are college and career ready upon graduation.

Academy of Fine Arts

Mission: Through innovation and creation, students will use art to transcend cultures and time, understand historical and current art forms as well as create new art and participate in artful experiences which enrich students' academic careers. Our teachers will provide meaningful experiences to encourage the love of the arts and the pursuit of further art education.


This academy includes visual, instrumental and vocal departments which collaborate across forms and cultures to allow students with a high interest in the arts to pursue and develop their unique talents.

Academy of Communication and Media Arts

Mission: Students will be able to independently produce multiple forms of mass communication.


This academy, comprised of the TV Production and Student Publications departments, prepares students to become lifelong learners in a media-rich society. Students can earn Adobe Certified Associate Credentials or Microsoft Office Credentials.

Academy of Engineering and Computer Science

Mission: To provide a curriculum that enriches math, science, and technology education and to promote an interest in engineering and computer science.

This academy graduates students with a basic understanding of engineering and computer science.

Academy of Government and Public Safety

Mission: To prepare students for a high-quality career, citizenship and college preparatory education to become future leaders in the fields of military, civil law, firefighting, and emergency services through a variety of projects, extended classroom experiences, internships, and guest speakers.

JROTC, Fire Services, and Criminal Justice departments educate students about military, legal, law enforcement, fire, and emergency service careers and prepare them to excel in public service professions.

Academy of Biomedical and Health Sciences

Mission: To develop a diverse group of lifelong learners and innovative leaders in biomedical science, public health, medical education and clinical care.

This academy provides pathways to success by being a leader for excellence in the delivery and innovation of health sciences education. Students can choose pathways to earn certification as a Certified Nursing Assistant or a Certified EKG Technician.

Academy of Business and Leadership

Mission: Educate and train future business professionals.

Three departments comprise this academy: Business Administration, Marketing, and Finance. This academy graduates students by providing a high-quality, real-world business program with opportunities for business involvement and models for career development. Students in this program may earn Adobe Certified Associate Credentials or Microsoft Office Credentials.

Academy of Sports, Fitness, and Recreation

Mission: To develop healthy students through physical activity and fitness. Through physical activity, students will be healthier both physically and mentally. Each student will be empowered to maintain proper fitness levels as well as positive self-confidence.

Physical education is the pillar of healthy, productive students. We are of the belief of "The Man in the Arena", Teddy Roosevelt's belief that we are productive in the classroom when we are more productive on the athletic fields. It is ultimately our belief that by participating in physical activities, we are boosting self-esteem and positive self-awareness. Students can earn credentials as sports officials or fitness instructors.