Return to Headlines
The Eufaula High School FFA Chapter Wins Big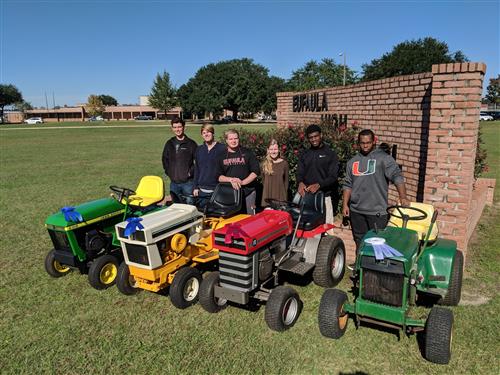 The Eufaula High School FFA chapter received several individual and chapter awards at county, regional and national competitions.
The EHS FFA Chapter was named a Two-Star Chapter for the 2018 National Chapter Award by the National FFA Organization and recognized in Indianapolis, IN during the National FFA Convention held October 24-27, 2018.
The program recognizes outstanding FFA chapters from throughout the country that actively implement the mission and strategies of the organization. These chapters improve chapter operations using the National Quality FFA Chapter Standards and a Program of Activities that emphasizes growing leaders, building communities and strengthening agriculture. Chapters are rewarded for providing educational experiences for the entire membership.
Eufaula FFA is very proud of our 2017-2018 President Jodi Spivey for her Silver Proficiency Award in Agricultural Processing at the national level! Proficiency awards recognize outstanding student achievement in agribusiness gained through establishment of a new business, working for an existing company or otherwise gaining hands-on career experience. The Agriculture Processing Entrepreneurship/Placement Award is one of forty-seven proficiency program areas FFA members can participate in to develop valuable experience and leadership skills at the local, state and national levels.
Chapter members were also honored at the annual Barbour County Farm-City Banquet for placements in the Farm-City Essay and Multi-Media competitions. In the 9-10 Grade Essay Division Kyle Myers earned 1stPlace and Andrew Brown won 2nd. In the 11-12 Grade Division 1stplace went to Luther Bludsworth and Alyssa Finney took 2nd. Eden Wood won 1stPlace in Multi-Media Contest.
At the National Peanut Festival in Dothan, AL, the Eufaula High School FFA swept the first annual Vintage Garden Tractor Restoration Show. Chapter members from the Applied Ag Mechanics Class placed 1st, 2nd, 3rd,and 4th in the Chapter Division. While in the Student Division, chapter member Connor Gissendanner placed 1st, 2nd, 3rdand 5thwith his entries. Chapter member Bryan Dees placed 4th.
The National FFA Organization provides leadership, personal growth and career success training through agricultural education to 653,359 student members who belong to one of 8,568 local FFA chapters throughout the U.S., Puerto Rico and the U.S. Virgin Islands. The organization is also supported by 344,239 alumni members in 2,051 alumni chapters throughout the U.S.
From left to right the students are Jesse Carlton, Connor Gissendaner, Gabe Hartley, Cayla Waddell, Jaquavious Peterson and Daquavious Jones. The tractors pictured are a 1974 John Deere 110, 1971 Cub Cadet 108, 1970 Massey Ferguson 12, 1977 John Deere 208.